20 in 20 Merit Badge Event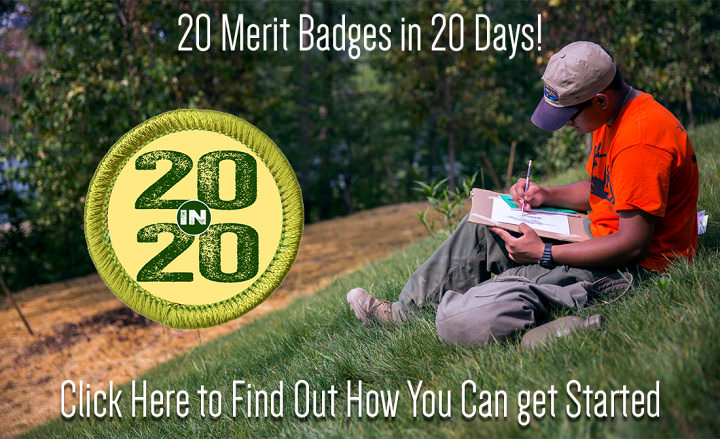 This summer, Leatherstocking Council will be offering its first online merit badge event. Each day for 20 days a single merit badge(MB) will be taught. The cost is $5 per MB unless marked. The sessions will begin on July 13 and run Monday through Friday until August 7th. The classes will begin at 5:30 pm and can run up to 3 hours long.
The merit badges will be completed online via GoToWebinar, Scoutbook, and will include a safety moment, and a check to make sure each Scout has a cyber chip. So make sure each scout has earned the award in the last year. About a week before the online class is scheduled The Scout will get an email with their login information. A Parent or Guardian will need to be in earshot during these sessions.
Scouts must complete any Prerequisite before the start of the course and should submit documentation using the scoutbook system which will be used as a blue card for this event. Please Make sure that Each Scouts Scoutbook account is ACTIVE and the email provided is linked to the Scoutbook account.
How to add a Merit badge in Scoutbook. Watch video - https://youtu.be/2cr887YlFC4
A good video to watch It cover how to use the Council MBC List but you can also skip to 4:28 in the video to learn how to assign an MBC to Scout.
Week 2 July 20, 2020 to July 24

Week 3 July 27, 2020 to July 31
Week 4 August 03, 2020 to August 07
| File Name | Description | |
| --- | --- | --- |
| 20 in 20 Leaders Guide | | Download |