Scouts BSA Adventure Weekend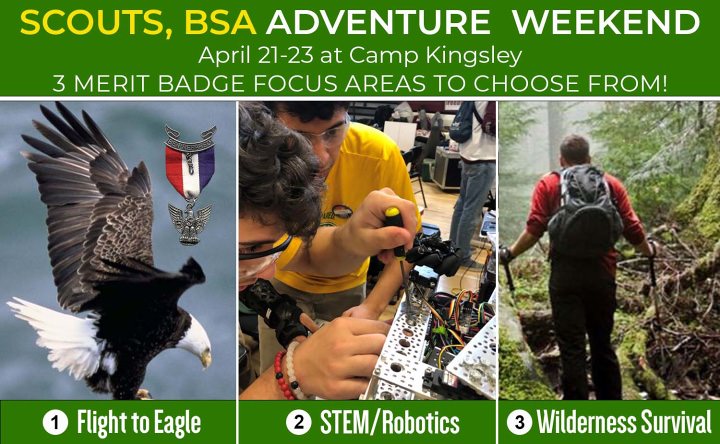 Scout BSA, Adventure Weekend is a Friday to Sunday event hosted at Camp Kingsley. Where Scouts BSA members will be able to take part in one of our three Programs. At this year we will be offering Flight to Eagle, Wilderness Survival, and STEM/Robotics.
Flight to Eagle
Eagle Scout Merit Badges

Scouts will be able to work on Merit Badges

Options (Subject to change)

Life to Eagle Session

Mock Project Reviews
Mock Eagle Board
Paperwork and Eagle Q&A Session

Leadership Development
Camp Activities
Open to 1st Class - Life Scouts
STEM/ Robotics - Bristol-Myers Squibb STEM Program
Robotics Merit Badge

Introduction to Programming
Hand on projects
Learn about Jobs in this Field

Hands-on Programs

Building, Programming, and Basic Task Maneuvering of Robots
Drones

Camp Activities
Open to Tenderfoot - Life Scouts
Tentative - Wilderness Survival
Wilderness Survival Merit Badge and beyond to Advance Bushcraft
Hand-on Survival Training with SEAR Instructor
100% Outdoor Program
Open to 1st Class and above
Fee: Registration Closing April 14th.
The fee will cover Lodging, Food, and Program Supplies.
Promo Kit:
Need help promoting this event to your unit? No problem, we've pulled together promotional materials to help you promote this event. Be sure to share any of our social posts (links to the right) with your scouting friends and even save our social images to share on your own groups.
Example digital post:
Join UNIT TYPE AND NUMBER HERE as we get ready to attend Adventure Weekend at Camp Kingsley from April 21st through the 23rd. We will venture through Eagle Scout required merit badges, STEM/Robotics, and even wilderness survival activities! Please sign up at our next meeting (MEETING DATE HERE) or contact SCOUT LEADER NAME at CONTACT METHOD. See you there!
| File Name | Description | |
| --- | --- | --- |
| Scouts' BSA Adventure Weekend Leaders guide | | Download |