First Aid Meet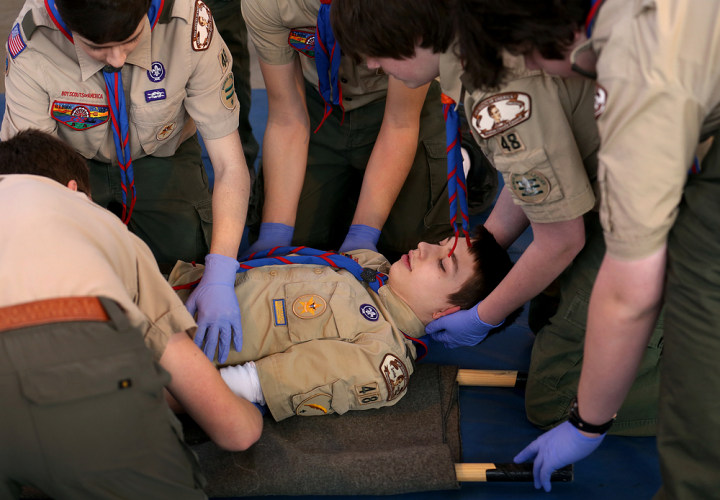 The 2020 Leatherstocking Council First Aid Meet will take place at the G. Hal Chase Physical Education Building at SUNY Oneonta on March 6, 2020, starting at 7:00 pm. This year's First Aid Meet will follow the format of last year's First Aid Meet so this should be very familiar to those who have attended in the past. This event is open to any unit in the council.
Troops taking part in the contest MUST provide one (1) judge per team entered. Judges' names must be submitted with the team's registration. (There is no charge for the judge.) Judges should check-in at the registration table before the Judges' meeting at 6:15 p.m. Judges must be on time so we can start the meet on time. Judges' Meeting at 6:15 p.m. is to review the scenarios and the score sheets. Teams will not be allowed on the floor if their judge has not checked in! Judges do not need to be Squad members or EMT's. The scenarios will be judged using BSA First Aid Criteria. The only acceptable stretcher per BSA can be found on the next page. Any other stretcher will be judged as incorrect.
There will be a registration fee of $8.00 per Scout. Payment will be due with online registration or by check sent to the Utica Council Office, 1401 Genesee St, Utica, NY 13501. A troop check is preferable, but a personal check will be accepted. Pre-registration ends 02/28/2020. Registration after 02/28/2020 is $10 per Scout. Checks (no cash) will be accepted at the door. A troop can also pay by charging to their troop account if there are sufficient funds available before the event. At the end of the meet, extra patches will be available for a cost of $2 each.
Pre-registration is strongly encouraged! We have room for 40 teams so come join us! If you do not pre-register, however, you may not have a spot at the event. Also, to get through registration quicker at the event, bring a completed Team Roster Form the night of the event for each participating team. If you have an odd number of Scouts that would like to attend (either less than 5 or more than 5), please let us know that as well and we can form 'provisional teams' the night of the First Aid Meet. Less than 5 Scouts – come anyway!!
Hint – you can use Webelos as victims!