Leatherstocking Council Sporting Clays Tournament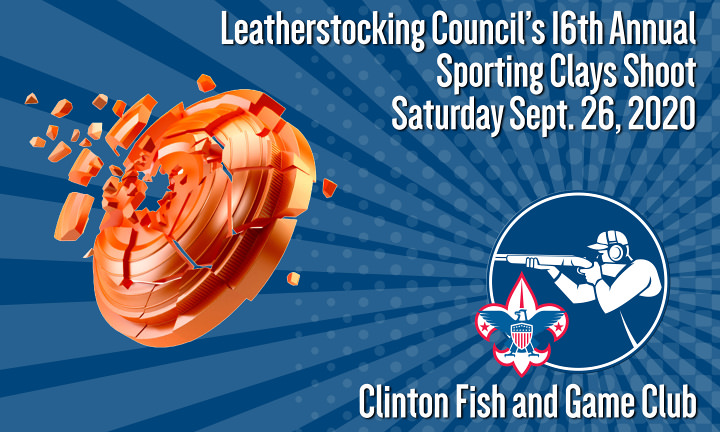 Date:
Sep 26, 2020
Location:
Clinton Fish & Game Club
3067 Lumbard Rd
Clinton, NY 13323
Location Phone: (315) 853-8787

100 TARGETS
BBQ LUNCH INCLUDED
SHOTGUN START AT 10 AM
RAFFLES/PRIZES/AWARDS
NSCA REGISTERED SHOOT
LEWIS CLASS TROPHIES
NSCA FEES ARE INCLUDED
On September 26, the Leatherstocking Council will hold its annual Sporting Clays tournament. The proceeds from this tournament will go to the Leatherstocking Council Shooting Sports Program. The program focuses on teaching Scouts about firearms safety, proper use, and responsible ownership of firearms.
The event will be COVID-19 safe and it is asked that all shooter please bring an appropriate face covering.
Registration is open online! Visit WinScoreOnline.com and scroll to Sept. 26, 2020 under Upcoming Tournaments.
Registration 9:00AM - 9:30AM. No late check-ins.
Shotgun start at 10:00 AM
Lunch, awards and side games follow
Registered NSCA Targets. Lewis Class Trophies
$95 per Shooter
Squads of 5
Limited to the first 100 shooters
Would you like to Volunteer?
- Positions are open for scorekeepers, hospitality, opening flag ceremony.

Please encourage your friends to come out and support this Event which benefits Scouts in our large 8 County Boy Scout Council.