Leadership Dinner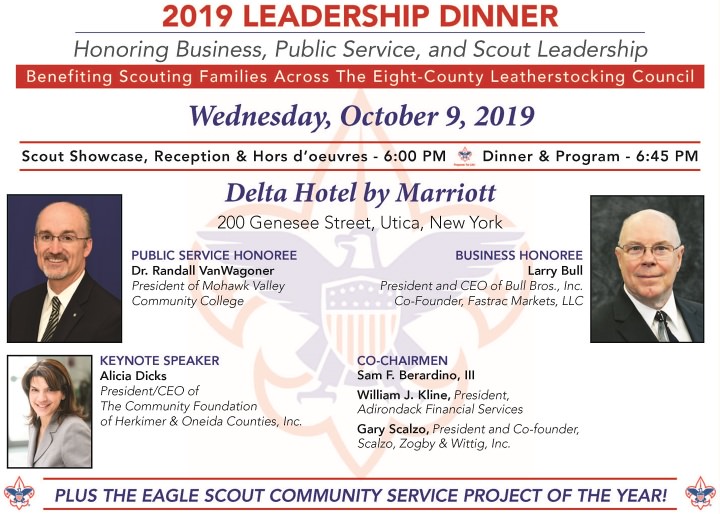 Date:
Oct 9, 2019
Location:
Delta Hotel by Marriott
200 Genesee St
Utica, NY 13502

Utica, NY – On Wednesday, October 9, 2019, the Boy Scouts of America Leatherstocking Council will host its annual Leadership Dinner at the Delta Hotels by Marriott in Utica, NY to present BSA Community Leadership Awards to Larry Bull, President, and CEO of Bull Bros., Inc., and co-founder of Fastrac Markets; and to Randall VanWagoner, President of Mohawk Valley Community College since July 1, 2007. Keynote address on leadership will be delivered by Alicia Dicks, President/CEO of The Community Foundation of Herkimer & Oneida Counties.
The BSA Community Leadership Award is presented to those who exemplify in their daily lives the ideals of the Boy Scouts of America as expressed in the Scout Oath and Law. The recipients are chosen for their outstanding community service as evidenced by the interest and leadership given to many worthwhile organizations as well as the respect and esteem in which they are held by their colleagues.
2019 Business Honoree - Larry Bull
Larry Bull has served the Boy Scouts of America in many volunteer positions, from Cubmaster to Council President. After serving as a U.S. Army officer including one year in Vietnam, he completed his studies at Utica College, receiving a B.S. in business administration in 1974. Larry is active in the community, having served on numerous boards, including the Valley United Way, General Herkimer Scout Council, Mohawk Valley EDGE, Herkimer County Community College Foundation Board, and Trustee and Chairperson of the Community Foundation of Herkimer and Oneida Counties, Inc., He currently serves as Trustee and Past Chairperson of the Utica College Board of Trustees and as Trustee of the Mohawk Valley Hospital System board. Larry is an avid bicyclist, hiker, fisherman, and pilot. He and his wife, Corky, reside in New Hartford and have two sons, Kevin and Andrew.
2019 Public Service Honoree - Dr. Randall VanWagoner
President VanWagoner has served on the board of thirteen local organizations, including a term on the BSA Council board, in addition to his current service on the boards of the Boilermaker Road Race, the Community Foundation of Herkimer, and Oneida Counties, and Mohawk Valley EDGE. He has served on multiple community initiatives and has co-chaired the Oneida County Executive's Vision 2020 initiative for the past six years. Dr. VanWagoner initiated a partnership with Leadership Mohawk Valley to create the Center for Leadership Excellence at MVCC and recently finished serving four years as president of the New York Community College Association of Presidents. He is a member of the Jobs For the Future national policy trust and is the co-facilitator of the national Strategic Horizon Network that brings nine community colleges together to explore disruption, innovation, and equity outside of higher education. Dr. VanWagoner recently published his first book, "Competing on Culture: Driving Change in Community Colleges," as part of the future series with the American Association of Community College Trustees and presents around the state and country on organizational culture and change. He has worked in community colleges for the past 28 years and held administrative positions at community colleges in Omaha, Denver, and Ann Arbor. He and his wife, Jennifer, who also is very active in the community, have two daughters and live in New Hartford.
"Each year, I wonder if we will be able to find two individuals who so perfectly represent BSA values and leadership expertise as well as the prior year's honorees– and each year our committee successfully identifies individuals who absolutely exemplify our organization's ideals," said John Devlin, BSA Leatherstocking Council president.
"The 2019 BSA Community Leadership Award Honorees have made and continue to make lasting and extremely valuable contributions to our community," according to Sam Berardino, chairman of the BSA Leadership Dinner committee. "We are truly honored to bring attention to all they have done and look forward to inspiring another generation of leaders by highlighting their outstanding service."
Keynote Speaker - Alicia Dicks
"It is fitting Alicia Dicks will deliver the keynote address," said Ray Eschenbach, Scout Executive/CEO of the Leatherstocking Council. "Who better than Alicia to share firsthand experience of what it takes to motivate others to set new standards of excellence for themselves, their teams and our community."
Since 2015, Alicia Dicks has served as President/CEO of The Community Foundation of Herkimer & Oneida Counties. Building on The Community Foundation's grantmaking investments in nonprofit organizations, she has led its transformation to an organization leading and driving significant social impact. Her leadership is supported by a volunteer Board of Trustees and a professional staff, both committed to The Community Foundation's vision: a vibrant community with opportunity for all.
Prior to joining The Foundation, Alicia managed the construction, maintenance and operations of SUNY Polytechnic Institute's Computer Chip Commercialization Center, as president of the Fort Schuyler Management Corporation. And she spent more than a decade at National Grid, as a regional executive director, managing National Grid's business operations for the Mohawk Valley and Northern New York, and as a director of market strategy. She began her public policy career at the Albany Local Development Corporation and in Albany city government, facilitating urban planning, development, and construction projects as a senior economic developer.
Alicia has a master's degree in Urban and Regional Planning from the University at Albany and a bachelor's degree in International Relations from SUNY Cortland. She serves on many local boards, including the "Save of the Day" Foundation, the School & Business Alliance and Mohawk Valley EDGE.
Alicia lives in Whitesboro with her husband and two daughters.
Annual Eagle Scout Project of the Year
The annual Eagle Scout Project of the Year award will again be a highlight of the event. The four finalists and their families will be on hand to hear U.S. Congressional Representative Anthony Brindisi announce – for the first time – who completed the Leatherstocking Council's 2019 Eagle Scout Community Service Project of the Year!
Event Details
The dinner will be at the Delta by Marriott, in Utica, NY and begin with hors d'oeuvres at 6:00 PM. Dinner and Program at 6:45 PM.
Individual tickets are $125; tables of eight available for $1,500 and include a half-page recognition in the event program.
Two tables of eight, presenter and recognition at dinner, full-page program ad in all Council events and logo placement in weekly eNewsletter for 12 months, recognition on social media, listing on Donor Wall of Honor in Council HQ
One table of eight, full-page program ad, recognized on social media, logo placement in eNewsletter for 6 months
A table of eight, half-page program ad, recognized at dinner, recognized on social media
A table of eight, quarter-page program ad, recognition at dinner
$35 per plate is not tax deductible per IRS
For more information, or to purchase sponsorship packages or tickets, please call (315)735-4437, ext. 223. Fax: (315) 735-9184
Paper Registration - BSA 2019 Leadership Flyer