Leadership Dinner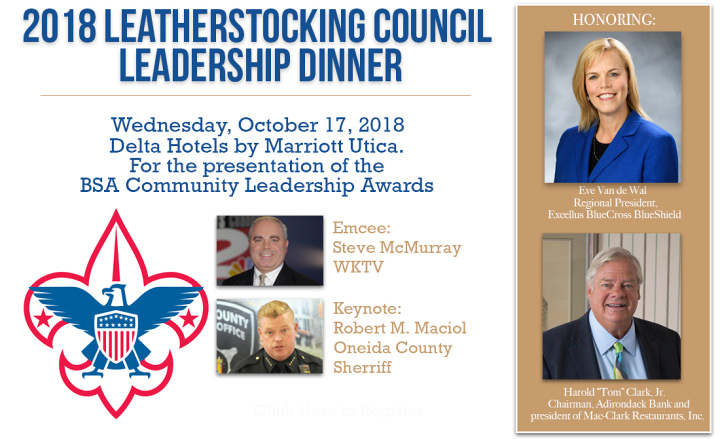 On Wednesday, October 17, 2018 the Boy Scouts of America Leatherstocking Council will host its annual Leadership Dinner at the Delta Hotels by Marriott Utica to present BSA Community Leadership Awards to Eve Van de Wal, Regional President of Excellus BlueCross BlueShield and to Harold "Tom" Clark, Jr., Chairman of Adirondack Bank and president of Mac-Clark Restaurants Inc.
The BSA Community Leadership Award is presented to those who exemplify in their daily lives the ideals of the Boy Scouts of America as expressed in the Scout Oath and Law. The recipients are chosen for their outstanding community service as evidenced by the interest and leadership given to many worthwhile organizations as well as the respect and esteem in which they are held by their colleagues.
Eve Van de Wal will be the first woman to receive this award. The announcement follows the recent expansion of BSA membership to include young women in the ranks of Cub Scouts and Scouting BSA programs. Young women have been participating in BSA's Explorer Posts and Venture Crews since the 1970's; however, now young women will be able to achieve rank advancements including the coveted rank of Eagle Scout.
"Ms. Van de Wal is a fine choice for history's first female Community Leadership Award given her inspirational support of The American Heart Association and American Stroke Association; Health Workforce New York; The United Way of the Valley and Greater Utica Area; Mohawk Valley Economic Development Growth Enterprises Corporation (EDGE); The Community Foundation of Oneida and Herkimer Counties; Utica Rotary and so many other worthwhile nonprofits in our area," said John Devlin, BSA Leatherstocking Council president.
"By focusing his philanthropy on the youth in our region, Mr. Clark has made a generational impact on Ronald McDonald's Children's Charities of Central New York, many United Way agencies; the Utica Rescue Mission; his alma mater Utica College; Central Association for the Blind and Visually Impaired; The Salvation Army; EDGE, the Community Foundation of Herkimer and Oneida Counties and many others," according to Sam Berardino, chairman of the BSA Leadership Dinner committee. "We are honored to bring some attention to two outstanding leaders in our community who inspire others to follow their fine examples."
Mr. Clark's mother Mary Tilton Clark was active in Cub Scouting. He has served as the President of Ronald McDonald's Children's Charities of Central New York. In recognition of his involvement with the McDonald's Children's Charities, Mr. Clark was awarded the Ronald Award, a top national recognition by McDonalds Corporation. He has also received the Archie Award and was elected president for the National OPNAD board by his peers at McDonalds. He has served as the President of the Central New York / Southern Tier McDonalds Owners Co-Op. For his donation of Camp Ronald McDonald for Special Children to Update Cerebral Palsy in the Utica area, Tom was named UCP's Caring Person of the Year in 1995.
Emceed by WKTV's Steve McMurray and co-chaired by Sam Berardino of Morgan Stanley, Gary Scalzo of Scalzo, Zogby & Wittig, and William Kline of Adirondack Financial Services; this special evening will showcase individuals who personify the Scout mission to grow young leaders in our community. Oneida County Sheriff Robert M. Maciol will deliver the keynote address, sharing firsthand what it takes to motivate others to set new standards of excellence for themselves.
In addition to his work in Oneida County, Maciol represents Oneida County at the state level and serves on several committees. He currently serves as the first vice president of the New York State Sheriff's Association, chairman of the Oneida County Sheriff's Law Enforcement Foundation and is a member of the New York State Division of Criminal Justice Accreditation Council, Mohawk Valley Chapter of the Red Cross and YWCA Domestic Violence Coalition. Maciol is also a member of the NY Farm Bureau, Sons of the American Legion Post 1376, Polish League of American Veterans (honorary), Firemen's Association of the State of New York and the New York Mills and Oneida County historical societies.
Annual Eagle Scout Project of the Year
The annual Eagle Scout Project of the Year award will again be a highlight of the event. The four finalists and their families will be on hand for the announcement of the winner, hearing it for the first time right along with dinner attendees.
Event Details
The dinner will be at the Delta Hotels by Marriott Utica, 200 Genesee St and begin with hors d'oeuvres at 6:00PM. Dinner and Program at 6:45PM.
Individual tickets are $125; tables of eight available for $1,500 and include a half-page recognition in the event program.
Two tables of eight, presenter and recognition at dinner, full page program ad in all Council events and logo placement in weekly eNewsletter for 12 months, recognition on social media, listing on Donor Wall of Honor in Council HQ
One table of eight, full page program ad, recognized on social media, logo placement in eNewsletter for 6 months
A table of eight, half page program ad, recognized at dinner, recognized on social media
A table of eight, quarter page program ad, recognition at dinner
For more information, or to purchase sponsorship packages or tickets, please call (315)735-4437, ext. 223. Fax: (315) 735-9184
Paper Registration - BSA 2018 Leadership Flyer