Susquehanna Headwaters District Spring Camporee 2022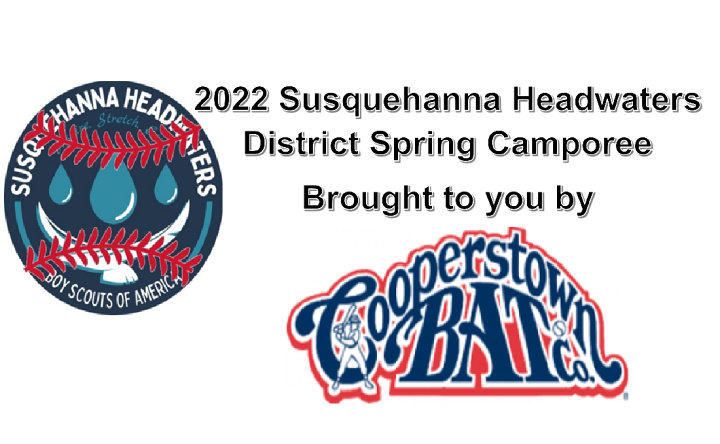 Hello Everyone,
The Susquehanna Headwaters Camporee Committee is proud to announce the 2022 Spring Camporee! This year's Camporee will be hosted by the Cooperstown Bat Company's Sawmill located on Poplar Ave in Hartwick NY.
The Camporee is from May 20th through May 22nd.
Check-in begins at 4:00 PM on Friday, May 20, 2022
Departure will be by 1:00 PM on Sunday, May 22, 2022
This event is open to all Units in the Leatherstocking Council. However, will be limited to the First 150 Scouts that sign up.
FEES: Scouts and Leaders in Uniform: $15.00 youth/$10.00 adults
After May 16, 2022 price increase to $20.00 per youth/$15.00 adults
Webelos: Webelos are encouraged to attend for the day. Please also sign up on the Leatherstocking website so that we know that you will be arriving. The fee for the day is $6.00
We are truly honored to have Cooperstown Bat Host this event, they will be providing tours of their sawmill as well as souvenirs for all participants.
Other events and exhibitions will include:
-Hot Air Balloon Demonstrations and Rides
Must complete Consent Form
Rides will be limited to 30 feet and tethered.
WHILE PROPANE LAST AT EVENT)
-Patch Trade-O-Ree
-Baseball Themed Competitions
-GeoCaching Merit Badge
-Sports Merit Badge
For more information on the Camporee please see the council website and download the Leaders guide or Contact Paul Van der Kruik at paul.vanderkruik@scouting.org.
Susquehanna Headwaters District Spring Camporee May 20, 2022 to May 22