Tent-In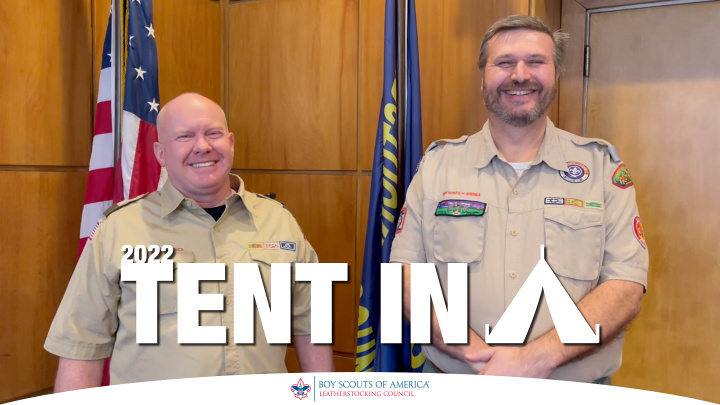 Watch our Tent In videos at the bottom of the page or read on to learn about our 2022 Tent In!!!
The Leatherstocking Council Tent-in gives you and/or your troop or pack a fun way to support our Friends of Scouting Family Campaign.
Prior to COVID, most of our troops and packs were making an FOS appeal and so far this year, only five troops have supported this very important annual fundraising campaign.
HOW'S IT WORK?
Any individual or unit may set a goal, then ask one or more Tenters to pitch a tent, even if it's in your back yard, and reach out to your family and friends to make a tax-deductible charitable donation to support local Scouting programs.
When other councils have done a Tent-in, their tenters averaged around 14 donations per tenter and goals varied from $50 to $5,000 (some corporate executives even participated and reached out to their employees for help).
Once you reach your goal, you are officially free to leave your tent and get back to enjoying the great outdoors!
PRIZES:
Top Tenter!
Wins a pheasant shooting package for up to four people at The Vernon National Shooting Preserve, or a $1,000 credit at the Council store!
(the 2022 pheasant season is already booked, so this prize is redeemable in 2023)
Fastest Tenter!
Any individual to reach his or her goal of at least $100; or any unit to reach a group goal of at least $500 will be entered into a drawing for a $250.00 gift card from BestBuy!
Top 5 Tenters!
A $100.00 gift card from Clifford Fuel
Top 10 Tenters!
A $50.00 gift card from BassPro
RULES:
Visit https://donations.scouting.org/#/volunteer, create a log in (if you don't already have a BSA volunteer account).

One of our Tenters and our Scout Executive have recorded a tutorial video to show you how to do it.

Build your individual or team page and submit it for approval by March 1, 2022

Activation requests are sent automatically to James Hastie at Council HQ after you submit your page.
Once active, your page and progress will be visible on the P2P tab (which stands for Peer to Peer Fundraiser) found by clicking on the "Support Scouting" button on the top right of www.LeatherstockingCouncil.org

Reach your individual or team goal no later than May 31, 2022.

The Council will be posting periodic leaderboard updates on social media
Prize winners will be announced and prizes will be awarded by June 8, 2022.
Thank you for supporting support services provided by the Leatherstocking Council. To learn more about what our critical Friends of Scouting appeal funds, please visit https://blog.scoutingmagazine.org/2015/10/16/what-is-friends-of-scouting/
Tent In begins!
Tent In Tutorial 1- Account set up:
Tent In Tutuorial 2- Account approval and sharing: