Webelos Woods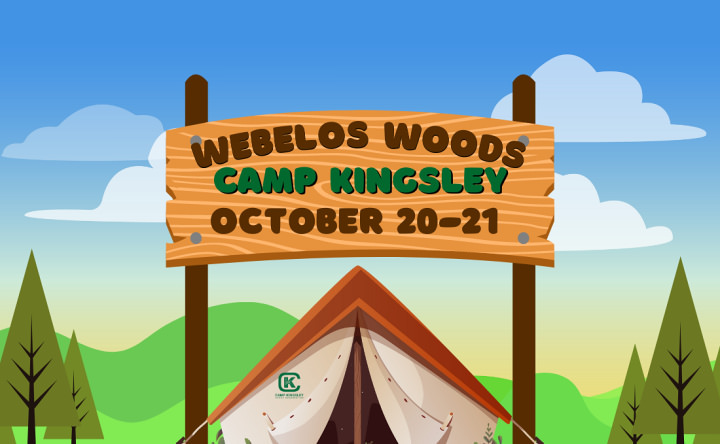 Webelos Woods is a fun overnight event being held at Camp. The event serves as a stepping stone for parents and youth to prepare them to transfer to a local Troop. The Scouts will be put into patrols and experience the event as a member of a Troop. On Friday night Scouts will meet their fellow patrol members and participate in multiple Scouting activities.
Who
Arrow of Light and Webelos Scouts with their parents
What
Games and activities centered around fun and advancement to prepare kids and parents for the awesome world of Scouts BSA.
Events Include
- Learn the patrol Method
- Earn your Tote-n-Chip
-Earn your Fire-Em-Chit
- Work on Arrow of Light Requirements
Where
Camp Kingsley
5328 Tuffy Road
Ava, NY 13303
When
October 20-21, 2023
Why
Webelos Woods is a fun-filled weekend that serves as an introduction to Scouts BSA for parents and kids preparing for the BSA's main Scouting program. Scouts BSA is where kids lead the way toward their own achievements and goals; this differs from the BSA's Cub Scout program where adult leaders guide the way.
How
Use the registration button below to buy tickets for this event and then assign those tickets to the lucky kid(s) and parent(s) that are going!
Cost
The costs below include a great program, Breakfast, Lunch, Dinner, and PATCH!
Youth: $36
Adult: $36
Promo Kit:
Need help promoting this event to your unit? No problem, we've pulled together promotional materials to help you promote this event.
Event video- Grab any of your digital devices to present this video during your unit meeting while you announce signups for this event. You can also share this video across your unit's digital spaces for family and friends to pass along.
Example digital post:
Join UNIT TYPE AND NUMBER HERE as we get ready to attend Webelos Woods at Camp Kingsley on October 20 through the 21st. We will enjoy Games and activities centered around advancement to prepare kids and parents for the awesome world of Scouts BSA. Please sign up at our next meeting (MEETING DATE HERE) or contact SCOUT LEADER NAME at CONTACT METHOD. See you there!