2020 Summer Camp Announcement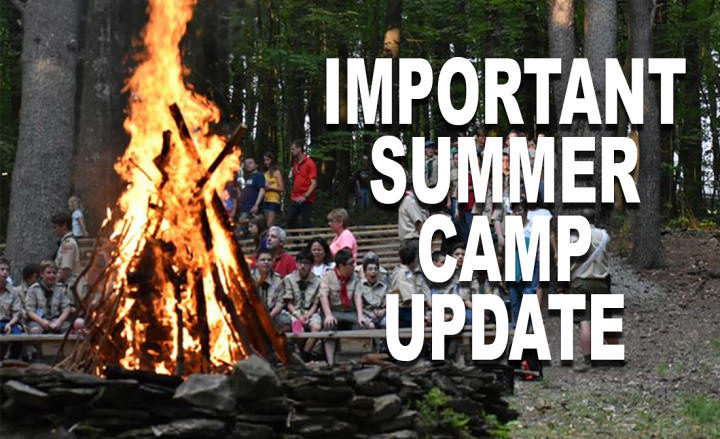 Dear Scouting Family,
First and foremost, we hope that this email finds you and your family well. It goes without saying that we are living through an unprecedented and concerning time.
At the heart of the Scouting experience is camping. As leaders, parents and Scouts ourselves, we cherish the memory of camp and all the new skills, lifelong friendships and great activities we enjoyed.
As always, your safety and the safety of all our members, volunteers, and employees is the Boy Scouts of America's top priority. As such, we have taken a careful and informed approach in evaluating whether to run summer camp at Camp Henderson and Camp Kingsley this year. Since the spread of this pandemic, we have been continually monitoring the situation, and consulting with health experts, government officials and other camp professionals. Additionally, we sent out a survey to parents, volunteers and Scouters asking their opinions on Summer camp this year.
It is with a heavy heart that we inform you that, after a thorough review of all the data and survey responses, the Leatherstocking Council has decided to suspend our resident camp programs at Camp Henderson and Camp Kingsley for the 2020 summer season. We know camp is an important part of every Scout's summer, and this decision was not made lightly. Even if legally allowed to open camp, the CDC camp guidelines required of us would make a lot of the activities that make summer camp fun – impossible. The following are activities the CDC camp guidelines would not allow:
• Merit badges and other programs that cannot be facilitated with
physical distancing measures in place.
• Large group gatherings
• Camp wide ceremonies
• Camp wide games
• Campfire programs
Without these types of activities, summer camp would just not be the same. We would rather work on building an amazing program for next year instead of a disappointing one for this year.
But the summer is not lost! The Leatherstocking Council is re-imagining summer camp. We are pulling together ideas about virtual summer camp, individual unit camping, a Scouting roadshow and more. In the coming weeks we will announce these exciting programs that are guaranteed to entertain and educate while keeping everyone safe. Stay tuned to this site and our Facebook page for details soon.
If you have already signed up for camp, you will be given a full refund of all fees and deposits within the next 3-4 weeks. You may also opt to "roll over" your deposit and payments towards summer camp in 2021.
Our council and staff are saddened that we are not able to serve you at Camp this summer. This is an extraordinarily challenging time; unlike anything we have experienced. Our hope is we all emerge from this challenging moment stronger than before.
We hope all our Scouting families stay healthy and positive in our current environment and join us in preparing for future great summer camp experiences at Camp Kingsley and Camp Henderson.
If you have questions please email leatherstocking@scouting.org with the words "summer camp" in the subject line.