Leader Guide to SCOUT CHALLENGE 365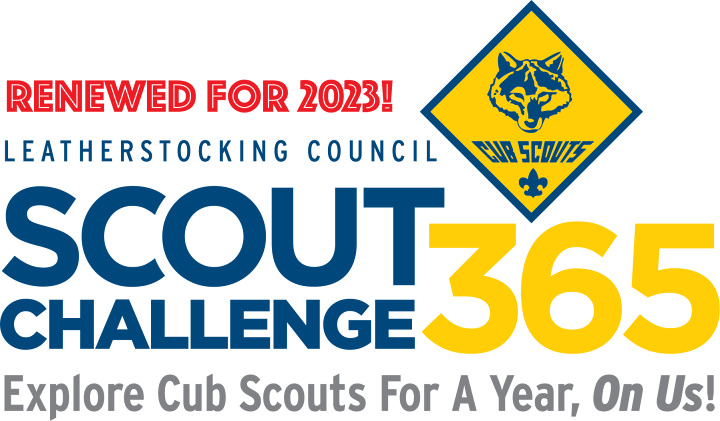 Introducing: Scout Challenge 365
---
Promotion Runs From April 1st to December 31st
Scout Challenge 365 Program will cover the cost of the first-year registration fees for new Scouts joining a unit registered with the Scout Challenge 365 Program. This applies to Cub Scouts and Scouts, BSA units. Units can join the program by completing the Scout Challenge application below and then submitting it to their District Executive. Your District Executive will then contact you to discuss the requirements and help you get started with the program. The Unit leader will then receive registration codes to use when registering new youth to their units.
What is the process:
Unit leaders will talk to new parents and provide them with the code to enter when they register their Scout through https://beascout.scouting.org. The Parent needs to select the correct unit and complete the online registration application. They also need to make sure that the option for Scout Life Magazine has not been selected. The Program does not cover the fees. The parent will use the code provided by the unit leader at check out.
If Paper Apps are required, please speak with your DE.
Please note this is a local pilot program for this year only and only applies to only new Scouts. It does not cover the registration cost of existing Scouts.
Pending the success of the program, the Council will explore extending this program to currently enrolled Scouts in the future.
Scout Challenge 365 Unit Requirements:

As a condition of participating in this program, units would agree to
1) Actively engage in recruiting
2) Agree to sell popcorn and peanuts
3) Agree to a Friends of Scouting presentation
4.) Agree to a summer camping presentation and
5.) Agree to attend a fundraising seminar to learn how to raise money for the unit to cover annual registration costs for the Scouts.

Cost being Covered by the Scout Challenge 365 Program
We are so confident in the value of Scouting, that we want to make sure that all youth can explore everything that
Scouting has to offer without financial hardship.

Currently, a New Scout's family is responsible for the following fees when registering:
One-time reg fee:
Annual membership:
Council Insurance
With Scout Challenge 365, These fees will be waived for their first year in Scouting including the prorated fee up to the next recharter.
Scout's Life
Scout's Life Magazine is not covered by this program. While completing the youth application, make sure the magazine option is not selected. Scouts will have the opportunity to purchase the magazine after they register. Any processed subscriptions will be billed to the Unit. Scout Life Subscriptions can be purchased at the Scout Office.
| File Name | Description | |
| --- | --- | --- |
| Scout Challenge 365 Application | | Download |