Fall Family Camp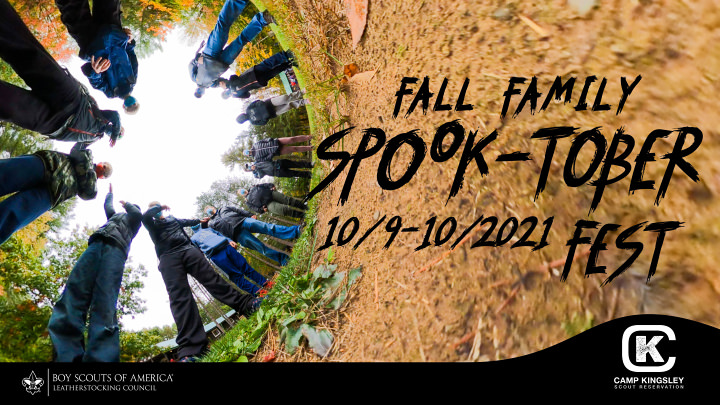 Fall Family Camp
"Spook-tober Fest"
When:
October 9th –10th

8:30 am Saturday until 10:00 am Sunday
Weekend Cost:
Base price is $33 per person
Starting Sept 30th, the fee will increase to $38 per person.

Price includes 3 meals, patch and sleeping accommodations (families may choose to bring their own tents)
Meals:
Saturday: lunch and dinner

Sunday: Breakfast
Sleeping Accommodations:
Lean-tos - First Come First Serve

Tent Sites - Bring your own tents
Tentative Event Schedule
Saturday, Oct. 9- Time, Activity and Location
8:30-9:00am ??Check-in ?(Registration?(Trading Post))
9:00-915 am? Morning Flags? (Opening Ceremony and Safety (Flag Poles near Dining Hall))
9:15-11: 45am Activities (Below)
12:00-12: 45pm Lunch (Dining Hall)
1:00 – 4:00pm Activities (Below)
4:00 – 5:00pm Free Time?
5:15- 6: 30pm Dinner (Dining Hall)
6:30pm Evening Flag Ceremony
6:45-7: 45 pm Campfire and Costume Contest (Pavilion)
8:00-8: 30 pm Trick-or-Treating through Camp (meet at Pavilion)
8:30-10pm Family Time in Sites
10 pm Quiet Time/Lights Out
Sunday, Oct. 10-Time, Activity and Location
7:30-8: 30 am Continental Breakfast
8:30-10: 00 am Pickup, Check-out and Departure
Schedule of Saturday Activities
Schedule of All Day Activities
9:15am-4: 00 pm
Range: Archery, BB
STEM: Activities in the Pavillion
Can Jam, Badminton, Tetherball, Gaga Ball, and Human Foosball, Mini-Golf
Fishing (Fishing Pier and Council Ring)
Schedule of Morning Only Activities
9:15-11:45am
Nature
First Aid
Schedule of Afternoon Only Activities
1:00- 4:00pm
Playground
Scout Skills
** IMPORTANT NOTE: COVID protocols will be in place based on the most recent CDC, NYS and Oneida County guidelines. **
Share this video with your Cub Scout friends to get them pumped for Fall Family Camp!
| File Name | Description | |
| --- | --- | --- |
| Fall Family Camp Flyer 2021 | The 2021 Fall Family Camp Flyer is ready, so print it, send it, and share it as far as you can for all your friends to see! | Download |
| Position | Name | Telephone | |
| --- | --- | --- | --- |
| | Rob Mahardy | (315) 735-4437 | Email |