Fall Family Camp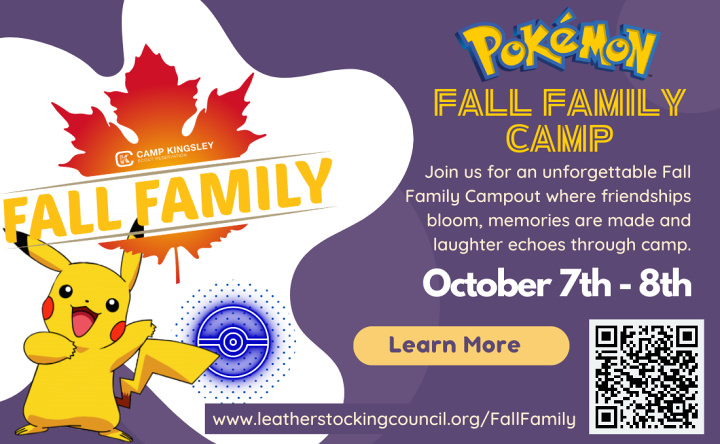 This year's Theme is Pokemon. So make sure you have dressed the part. Pokemon Trainers and researchers should meet at Camp Kingsley at 8:30 am.
Chef Ron is cooking up something great as we speak, more details to follow.
We are planning numerous fun and exciting activities for youth of all ages. STEM, Nature, Archery, and BB gun are great for everybody. Don't forget to stop by the Game and Craft Areas.
Sleeping Accommodations:
Lean-tos - First Come First Serve
Tent Sites - Bring your own tents
When:
October 7th –8th

8:30 am Saturday until 10:00 am Sunday
Weekend Cost:
$36 Per Person

The memories you create in Scouting are always priceless!
Past Activities Offered
Schedule of All Day Activities
9:15am-4: 00 pm
Range: Archery, BB
STEM: Activities in the Pavillion
Can Jam, Badminton, Tetherball, Gaga Ball, and Human Foosball, Mini-Golf
Fishing (Fishing Pier and Council Ring)
Schedule of Morning Only Activities
9:15-11:45am
Nature
First Aid
Schedule of Afternoon Only Activities
1:00- 4:00pm
Playground
Scout Skills
Promo Kit:
Need help promoting this event to your unit? No problem, we've pulled together promotional materials to help you promote this event.
Event video- Grab any of your digital devices to present this video during your unit meeting while you announce signups for this event. You can also share this video across your unit's digital spaces for family and friends to pass along.
Event image- Take this image and use it in posts on your unit's digital spaces or include it in your unit emails to encourage and remind unit members to sign up.
Event Flyer- Print this flyer to post it at your units meeting place or to pass out to unit members during your next meeting.
Example digital post:
Join UNIT TYPE AND NUMBER HERE as we get ready to attend the Fall Family Wizard-Fest at Camp Kingsley from October 7th through the 8th. We will enjoy activities such as archery, fishing, gaga ball, nature, and plenty more while attending this amazing event. Please sign up at our next meeting (MEETING DATE HERE) or contact SCOUT LEADER NAME at CONTACT METHOD. See you there!
| File Name | Description | |
| --- | --- | --- |
| CK_Fall-Family-Unit-Social | This is a basic social image that units can pull from the website to promote on their own social channels. No dates or identifying info are on this post so that its evergreen and doesn't need updated annually. | Download |
| Fall Family Flyer | | Download |