Please Join The James E. West Endowment Society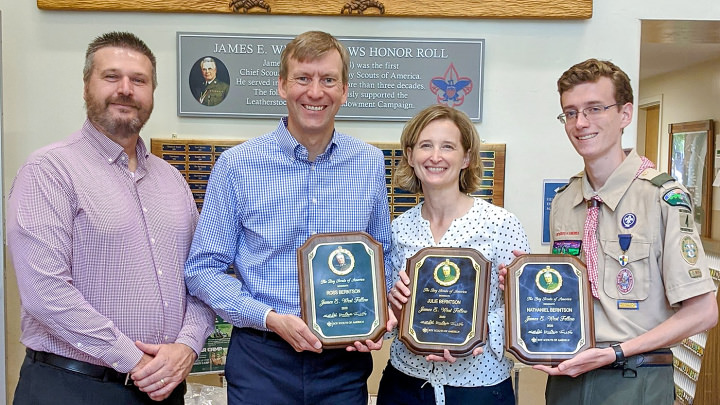 Thanks to the forward-thinking individuals who came before us, 43% of the Leatherstocking Council's annual operating budget is funded by interest income from planned gifts that we have received since 1910.
We realize it is no small thing to trust the safekeeping of one's legacy to a charity.
Therefore, we are proud to recognize individuals who have included and decide to include the Leatherstocking Council, BSA in their last will and testament. By doing so, you become a James E. West Fellow and as such, you receive a beautiful plaque and your name, or that of a loved one you would like to honor, is permanently added to our James E. West Wall of Honor in the lobby of our Council Headquarters in Utica, NY. The Leatherstocking Council, BSA, provides training and support services to Scouting volunteers and families across Delaware, Hamilton, Herkimer, Lewis, Madison, Oneida, Otsego, and Schoharie counties.
Ways to become a James E. West Fellow:
Name the Leatherstocking Council, BSA as a beneficiary of any one of the following:
An irrevocable planned gift, estate gift, bequest, or trust
A qualified distribution from your Individual Retirement Account (IRA)
A gift of cash or appreciated stock of $1,000 or more (payable over three years for Eagle Scouts and their families)
The James E. West Fellowship Award is a National Endowment recognition for individuals or organizations who contribute $1,000 or more in cash or securities to the Leatherstocking Council Endowment Fund. This contribution is in addition to, and does not diminish or replace, the donor's annual gift to the Council's Friends of Scouting Campaign, though some donors will endow their annual gift to FOS. Generally speaking, after a year, the interest income on a permanently restricted gift to our endowment will generate approximately $50.00 for our annual FOS campaign.
A James E. West Fellowship Award may be given by a group of Scouters or individual Scouter to honor a fellow Scouter, as a memorial on the death of a Scouter, or to recognize a special achievement like a new Eagle Scout.
The award is named after the first Chief Scout Executive of the Boy Scouts of America who exemplified Ralph Waldo Emerson's observation that "an institution is the lengthened shadow of one man." Scouting today is the "lengthened shadow" of more than three decades of the far-seeing and dedicated leadership of Dr. James E. West.
Those who are recognized by the James E. West Fellowship Award will cast their own "lengthened shadow" as they help ensure the Scouting legacy for future generations of young people and create the financial stability of the program in the twenty-first century for the Leatherstocking Council.
On behalf of all the Scouting families who benefit from the programs you support with this meaningful gift, thank you for your consideration.
Please consult your financial advisor, but if you do not have one and would like to speak with one of the volunteers on our endowment committee, please contact James.Hastie@Scouting.org or call Jim on his mobile number: (315)263-5326.
Thank you!
List of James E. West Fellows, those who have kindly contributed to The Leatherstocking Council, BSA Endowment Campaign to keep local Scouting alive and well.
With
Robert
Carpenter
2023
William K
Davis
2023
Steven
Schaeffer
2022
Jean
Couse
2021
Julie
Berntson
2020
Ross
Berntson
2020
Nathaniel
Berntson
2020
Christopher G.
Obernesser
2020
Paul
Beames
2019
The Benson Insurance Agency
2019
John S.
Edwards
2019
Jean M.
Hastie
2019
Dave
Manore
2019
The Don Marsh Agency
2019
Joyce W.
Midlam
2019
Michelle
Nolan
2019
Jerry
Schillo
2019
Michael & Holly
Schaul
2019
Richard & Delores
Schaul
2019
Schaul Roofing
2019
Table Rock Fitness
2019
David
Tobin
2019
Christopher
Obernesser
2019
Kirk
Evans
2018
Carol
Bedell
2017
Evelyn P.
Devlin
2017
John
Devlin
2017
Scott L.
Brady
2010
William
Doyna
2010
Ronald
Phelps
2010
Rodney
St. Clair
2010
Dr. Frank J. Dubeck, Jr. & Dr. Marybeth K. McCall
2008
Wester
Miga
2008
Carleton R.
Myers
2008
Richard A.
Rotondi
2008
William J.
Rudge, III
2008
James H.
Davidson
2007
Kevin B.
Hawks
2007
June
Sturges
2007
Robert
Baldwin
2006
Robert G.
Barnes, Sr.
2006
Raymond L.
Eschenbach
2006
Christopher S.
Hopkins
2006
Charles H. "Nick"
Ide
2006
Christopher M.
Meacham
2006
Benjamin T.
Obernesser
2006
Arnold H.
Lanckton
2005
William J.
McEachern
2005
Eric J.
Myers
2005
Paul
Obernesser
2005
Dean
McGowan
2004
Mary Jane
McGowan
2004
Alan R.
Woodruff
2004
Thomas J.
Davis
2003
Thomas J.
Denslow
2003
Philip R.
Hall
2003
Carol
Hawks
2003
Kenneth
Hawks
2003
Robert
Hill
2003
Francis X.
Matt, IV
2003
William
Morgan
2003
John C.
Morgenstern
2003
Craig Robert
Myers
2003
W. Frederick
Stevens
2003
William & Alice
Ackerson
2002
Timothy E.
Coveny
2002
Mark
Dollard
2002
Lawrence
English
2002
William L.
Koslosky
2002
Ralph T.
Miller, III
2002
Ralph Howard Clayton
Miller, IV
2002
Robert & Merrie
Pierce
2002
Roy E.
Quackenbush
2002
Paul J.
Rindenello
2002
Gregory P.
Rindenello
2002
Edward W.
Roelle
2002
James "Butch" Roelle
Roelle
2002
Jackie & Dennis
Slater
2002
Henry G.
Allen
2001
Janet
Bullock
2001
Charles J.
Burton
2001
Jerome
Dawes
2001
Richard C.
Doyle
2001
Harry
Draker
2001
Arthur R.
Garlington
2001
Robert
Gilchriest
2001
Patricia A.
Grogan
2001
John C.
Harvey
2001
Robert E.
Herrmann
2001
Francis
Kerwin
2001
Charlotte
Kerwin
2001
John W.
McMonagle
2001
S. Robert
McRorie
2001
Gary L.
Moreau
2001
Albert W.
Richards
2001
Rev. Ray
Roberts
2001
Donald L.
Tuttle
2001
Dale P.
Williams
2001
Latrell
Williams
2001
Janice R.
Duncombe
2000
Henry J.
Nicols
2000
Alfred J.
Poole, III
2000
William E.
Stone Sr.
1998
Wallace H.
Watkins
1997
Raynor B.
Duncombe
1995
William R.
Schaffer
1995
Dr. Joeseph
Vidosic
1995
Neely
Vincent
1995
Marion
Butts
1994
Claire
Kepner
1994
Theodore E.
Russell
1994