Mom and Me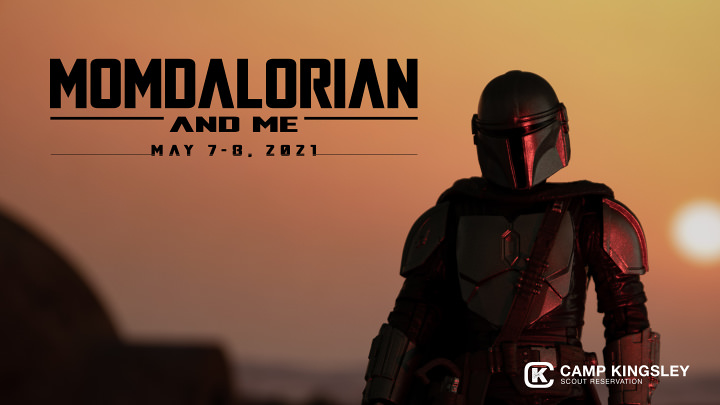 Our legendary Mom and Me Cub Scout event is back from a galaxy far far away. Join us this year for Momdalorian and Me at Camp Kingsley on May 8th!
Safety
All participants will be health screened and tem- perature checked on arrival.

Scouts and Moms will be divided into small cohort groups and stay with that group throughout the day.

Meals will be provided with social distanced seat- ing available.

All campers and staff will socially distance and masks must be worn through the event.

Hand sanitizer will be available in all areas. Pro- gram equipment and bath- rooms will be sanitized be- tween each use by staff and adults.
Featured Events:
Star Study

Campfire

Fishing

Crafts

Shooting Sports

Scout Skills

Nature

STEM/Nova
Menu:
Saturday Breakfast
Orange Juice
Assorted Cereal
Pancake w/Syrup
Sausage Links
Butter Crumb Coffee Cake Banana's
Hot Chocolate/Coffee/Milk/Water
Saturday Lunch
Roast Pork Loin
Mashed Potatoes w/Gravy Corn
Applesauce
Garden Salad w/Dressing Dinner Roll
Chef Ron's Brownie Bar Fruit Punch/Milk/Water
Menu subject to change
Pricing:
Overnight- $30 per person
Includes event patch, snack and meals, program supplies. Limited to 20 families! 15 Lean-tos are available are available on a first- come, first serve basis. Only 1 family per lean-to. Others must BYO tents.
Day Only- $22 per person
Includes event patch, meal, program supplies. There may be a limit imposed based on current capacity restrictions.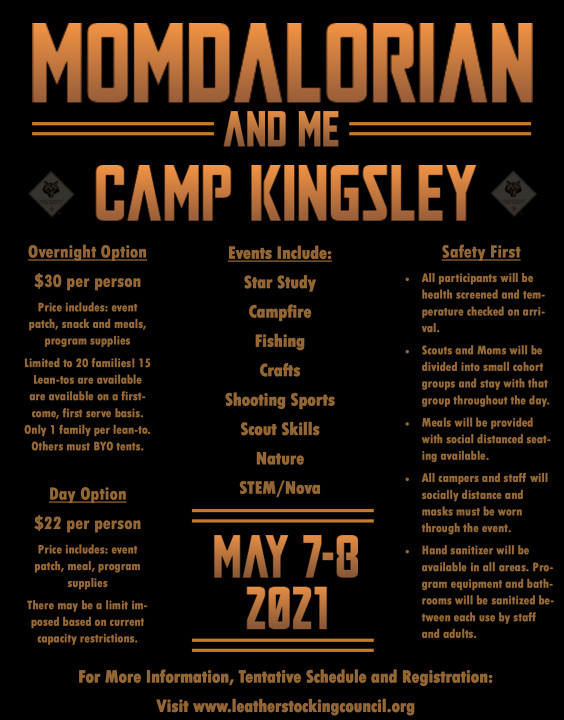 | File Name | Description | |
| --- | --- | --- |
| Mom and Me Flyer | This is the Flyer for the 2021 Mom and Me Cub Scout event. | Download |